By Laura Sinpetru, Luchina Fisher | Jun 17, 2013 | Softpedia, abc News
On Sunday, Erin Brady, whom many know better as Miss Connecticut, was crowned Miss USA 2013. Now that she got her crown, the 25-year-old beauty promises to spend the next year raising awareness of breast and ovarian cancer. While carrying out this humanitarian work, Miss USA 2013 will live in a New York apartment that she got together with her crown. What's interesting is that Erin Brady did not choose this charity mission on her own, The Inquisitr reports. On the contrary, the beauty pageant's main cause is helping women better understand and cope with these two types of cancers. Otherwise put, raising awareness of breast and ovarian cancer is part of Miss USA's "job description." Erin Brady has a degree in Finance and a minor in Criminal Justice, her profile on Miss USA says. As a child, she lived in a home influenced by alcohol and substance abuse. That's why she now wants to dedicate her life to helping children forced to grow up in such abusive environments. "Erin was raised in a home heavily influenced by alcohol and substance abuse and she sadly remembers the lack of support and places to turn to for the children of addicts, such as her." "She has since learned that more than half of adult addicts are children of alcoholics. It is her goal to help break the cycle of addiction as she plans to be an advocate for children of alcohol and substance abuse," her profile details. This year's Miss USA beauty pageant was held in Las Vegas, at the Planet Hollywood hotel and casino.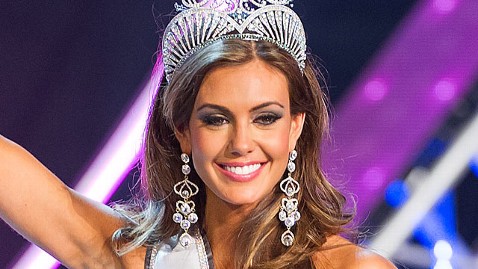 Michael Stewart/WireImage/Getty Images
Erin Brady, the country's newest Miss USA, hopes to dispel the myth that beauty and brains are somehow mutually exclusive once and for all.
The 5'8″ beauty from Connecticut strutted around the stage in an orange bikini and matching halter-top to the Jonas Brother's "Pom Poms" and later answered without hesitation a question about the U.S. Supreme Court's decision to uphold widespread DNA tests.
"If someone is being prosecuted and committed a crime, it should happen. There are so many crimes that if that's one step closer to stopping them, then we should be able to do so," she told the judges.
Later, she told The Associated Press, "I think that now more than ever, they're accepting that we're all intelligent individuals and that it's really not a stereotype," she said.
The 25-year-old accountant is (happily) leaving her white-collar job at Prudential Financial in Hartford for a swanky New York apartment that comes with her one-year reign as Miss USA.
That's not all. Here are five things to know about the new Miss USA:
She Worked Her Way Through College

Brady moved from Portland to Connecticut to attend Central Connecticut State University, where she majored in finance and criminal justice. While going to college full-time, she also worked full-time.
"I couldn't even think about being in beauty pageants. I had no free time and didn't have any extra money and was not mentally in the right state of mind. It's been a struggle but it shaped who I am," she told the Hartford Courant in May. "Sometimes I feel like a 35-year-old in a 25-year-old body, but the struggles helped me be better."
She Was Always a Glamour Girl
Though math-oriented as a child, Brady always loved glitz and glamour. Her father Francis told AP that she and her sisters would strut around pretending to be beauty queens.
Her grandmother would orchestrate the pretend shows, Brady's sister Audrey told AP. "She'd be like, 'Prance around the pool like Miss America.'"
She Came to Pageants Late
"I first entered last year and was older than a lot of women who get involved in pageants, but I did the research and the USA organization seemed to be the one that was the best fit," Brady told the Courant.
"She just went up there on a whim, man. But it was like, 'Just go for it. There should be more people like you who are competing, where it's not all about the hair and the makeup, but personality too,'" her sister Audrey told AP.
Brady was first-runner-up in the Miss Connecticut competition in 2012, before winning the crown this year.
"Being older now I think works to my advantage. I think I have more poise, more life experience, and more maturity," she told the Courant.
She Understands the Impact of Drug and Alcohol Abuse
Though she is expected to spend her year as Miss USA on a nationwide speaking tour raising breast and ovarian cancer awareness, the organization's official cause, Brady also plans to talk about something closer to her heart: helping children cope with the impact of drug and alcohol abuse.
"I grew up in a family influenced by that and I think it's really important to help the children of families that are suffering from those problems," she told The Associated Press.
Sorry, She's Taken

Her beaming fiancé Tony Capasso watched Brady compete Sunday from the audience in Las Vegas. But the pair, who are slated to tie the knot on Nov. 9, according to their website, will most likely have to reschedule. That's the same day as the Miss Miss Universe pageant in Moscow, where Brady is set to represent the USA.